Hurricane Matthew Damage Assessment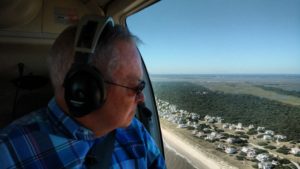 Sunday
I was able to observe and assess the damage from Hurricane Matthew both on land and by air. First, a drive around Oak Island revealed many flattened dunes on the front row, as well as sand and debris in the streets.
Then, I was offered a chance to view the entire Brunswick County coast by helicopter.  N.C. House Speaker Tim Moore and I flew from Bald head island to Sunset Beach.
All six beaches showed some damage.  The worst seemed to be first line dunes that had been flattened, with sand and debris spread up into the vegetation, as well as scattered over the property behind.  Oak Island seemed to have more sand at least two blocks back in the streets, as well as lumber from beach walkways.  The east end of Ocean Isle Beach appeared to have overwash over the sandbags and under the oceanfront homes. The Sunset Beach causeway, which I was told had been overwashed appeared to be clear and open by the afternoon.
After all assessments are complete by the professionals, I will be asking about emergency funds, including the " rainy day" fund which we have set aside the past four years. As I told the Speaker, "we've had a rainy day."
Rep. Frank Iler