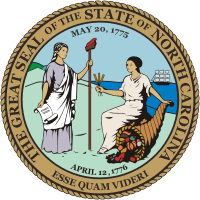 Last week was the fifth week of the 2019 long session at the North Carolina General Assembly.  Between the House and the Senate about 400 bills have been filed, and many are being heard in committees.  We heard from the Governor at his State of the State address Monday night, and heard from many advocates both inside and outside the government on upcoming issues.
Last Monday night, Governor Cooper delivered his State of the State address to a joint session of the House and Senate.  Also, in attendance were the members of the N.C. Supreme Court, Court of Appeals, and the Governor's Cabinet.  He was very concise with a 30 minute speech, and covered many points that will be in the budget, as well as other issues.  Some with which we can agree include investments in teachers, school construction, recovery efforts from Hurricane Florence, and resiliency against future natural disasters.  There are issues with which we will not agree, but it is up to all of us to come up with the best budget and laws for our state.
Tuesday is usually a day of committee meetings. I was in three major committee meetings dealing with transportation and education, in our annual ethics training class, and several smaller meetings on upcoming bills.  Also, on Tuesday we filed a bill, House Bill 169, to make the Loggerhead Sea Turtle the official state Salt Water Reptile for North Carolina.  Two other legislators from Pender and Carteret counties were primary sponsors, along with me.  This is the turtle species that lays thousands of eggs in nests each year along the Brunswick County coast.
Some major votes on House bills took place on Wednesday.  House Bill 3 – Eminent Domain puts on the ballot a constitutional amendment to make it illegal for government at any level to take one's land for any reason except a public use.  In the past some states and local governments have condemned land and let developers use it to increase the tax base.  This would make it not only illegal, but also unconstitutional.  After a thorough debate, it passed on a bipartisan vote of 94 – 21 and now goes to the Senate.
Another bill we passed would restore the N.C. Court of Appeals to 15 members from the current 12 members.  It passed 115 – 1.
It was good to see people from back home again this week.  Members of NC Cooperative Extension of Brunswick County visited on Tuesday, as did some of our nurses in the NC Nurses Association from Southeastern NC.
This week we will be getting more of our local bills into our Bill Drafting Dept. and then filing them by the March 28th deadline.  Some may be coming for our county.  We will have many more bills moving through committees and on to the House floor for votes.  Our Joint Appropriations Committee on Transportation has begun meeting every Tuesday, Wednesday, and Thursday, and will continue this week and each week in March.